Crossing Borders:
One-on-one collaborations between artists about time and place, with ruimteCAESUUR in The Netherlands.
Run of show: September 16 – October 7
Artists: Hans Overvliet, Giel Louws, Jorieke Rottier (The Netherlands)
Arezoo Bharthania, Ben Jackel, Valerie Wilcox (Los Angeles)
As part of the Durden and Ray exchange program, Crossing Borders was conceived as a collaborative project between six artists; three from the collective ruimteCAESUUR in the Netherlands and three from Durden and Ray in Los Angeles.
The central concept being a melding of ideas and objectives over time and place, intermingling their respective experiences. This causes a blurring of boundaries which leads us to question: Is it possible to bring an authentic experience of one place with you to another place, effectively crossing borders?
The collaboration with me and Ben Jacel resulted in the creation of the final version of DISTANT SUFFERING XX | i.d. of a shared cup of tea.
The simulacrum that the work also wants to be is now complete: a layer of sand from Yemen, where Raja Hamid Yahya al-Oud [14] died, a layer from Zeeland, where the work was conceived and a layer sourced through Ben from Venice Beach, America, where the bomb was manufactured that killed Raja.
The inner rhyme with Ben's work "School Bus" seems obvious to me in both image and materials, given the question posed by John Maxwell Coutzee: Innocence. Isn't that a much more interesting idea than beauty and comfort?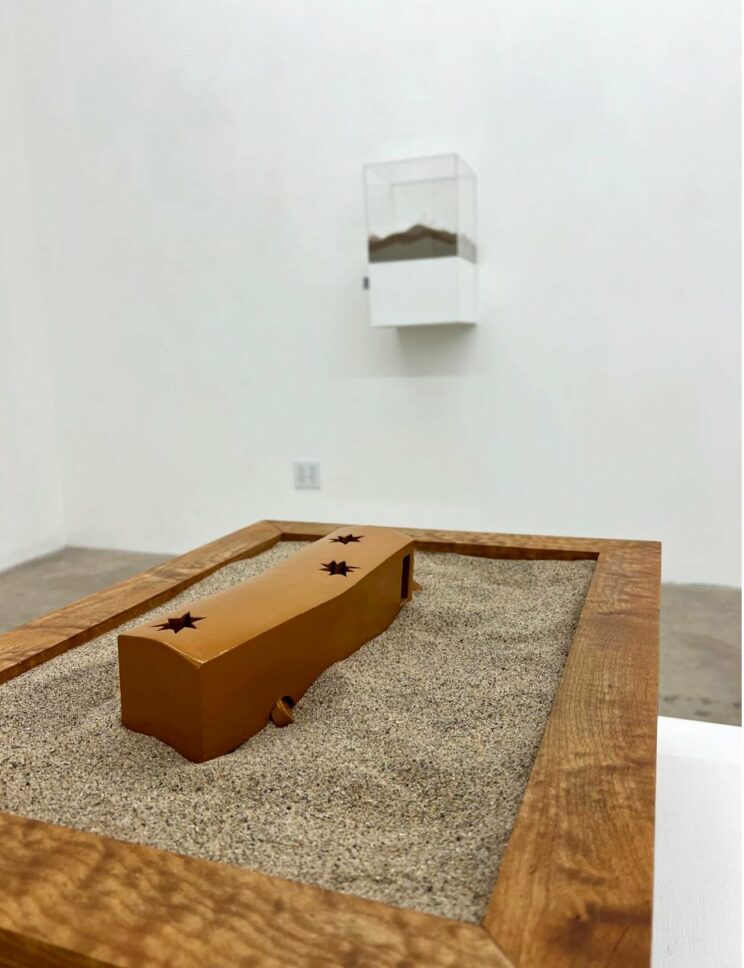 The second work distant suffering XXXI | other than joyful peace, no news from the Western Front refers to the safe sky through which our two countries are united: no drones or cruise missiles come down from it; only a little water in various manifestations and occasional some sunlight.